The platform built for today's world of work
Hire anyone in a new country in minutes and automate onboarding, payroll, and compliance. It's a world-class experience for your business and entire international team.
Join thousands of companies that trust Deel to hire, pay and manage their global team
Deel has everything you need to compliantly hire, pay and manage contractors and employees in 150 countries. Think onboarding, contracts, expense management, benefits, payroll and built-in compliance for your international team.
Go from offer letter to onboarded in minutes
Got a new hire in Germany or maybe Brazil? Set them up to work compliantly in minutes. Create a custom contract that's compliant with local laws, send it to sign, and they'll get onboarded almost instantly.
Leave staying on top of local laws and compliance to us
Being the legal, hr, and accounting expert for every country would be tough. Our network of 200+ local expert partners ensures all things hiring follow regional laws and tax rules so your team can work wherever they reside.
Streamline your entire payment process with a click
Stop manually paying contractors and calculating complicated local taxes for employee payroll. Instead, pay your whole team each month with one bulk payment, and we'll make sure they get paid right on time, in their preferred currency.
More flexibility and freedom for businesses and teams
With Deel, companies can freely hire whoever they want, no matter their location. And people around the world can access more opportunities with fewer restrictions.
It's better, smarter, faster hiring for businesses everywhere and the freedom and mobility for team members to move, live, and work anywhere without a worry.
Do it all with Deel
Whether you want to hire a contractor in Germany or twenty employees in Brazil, you can manage contractors and employees together all from your Deel account
See more detail on Deel website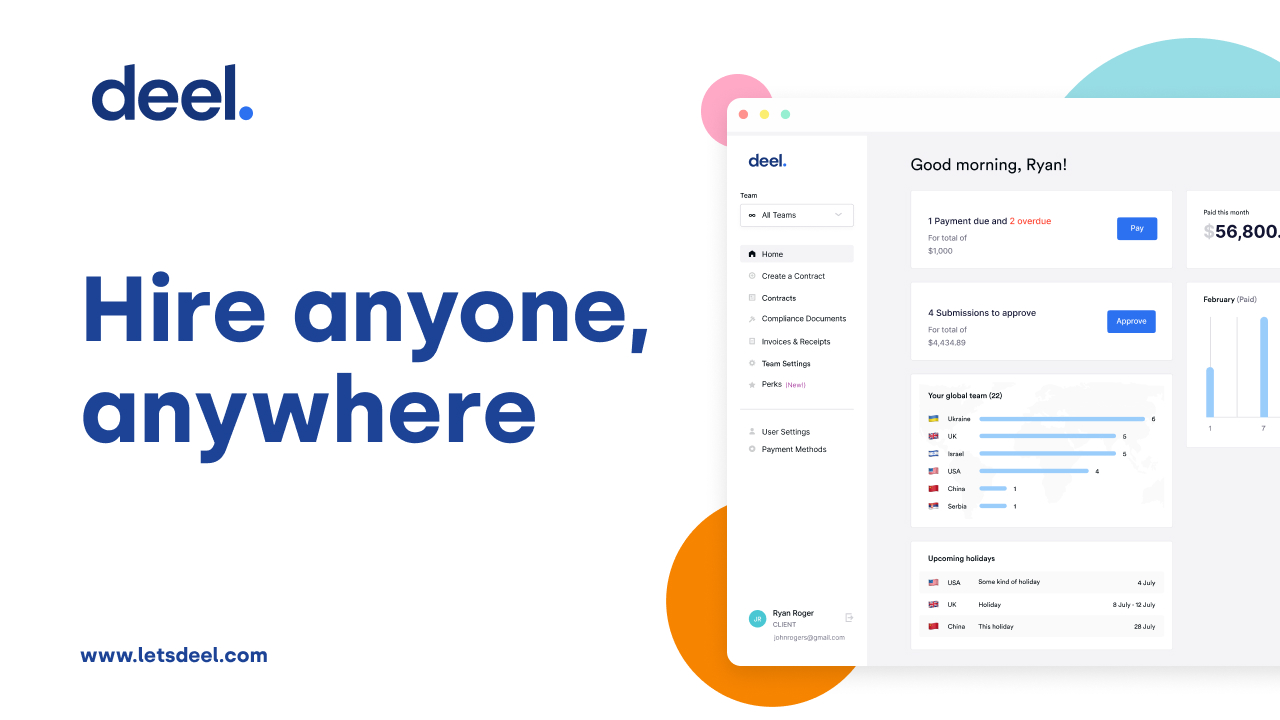 Deel x affiliates
Deel's partner program is designed for HR consultants, payroll providers, and other service providers. Join our network and offer Deel to your clients today!