Job Posting
Job Posting
This section gives you access to all job posting related functions such as post, delete, refresh, hide, update descriptions and export.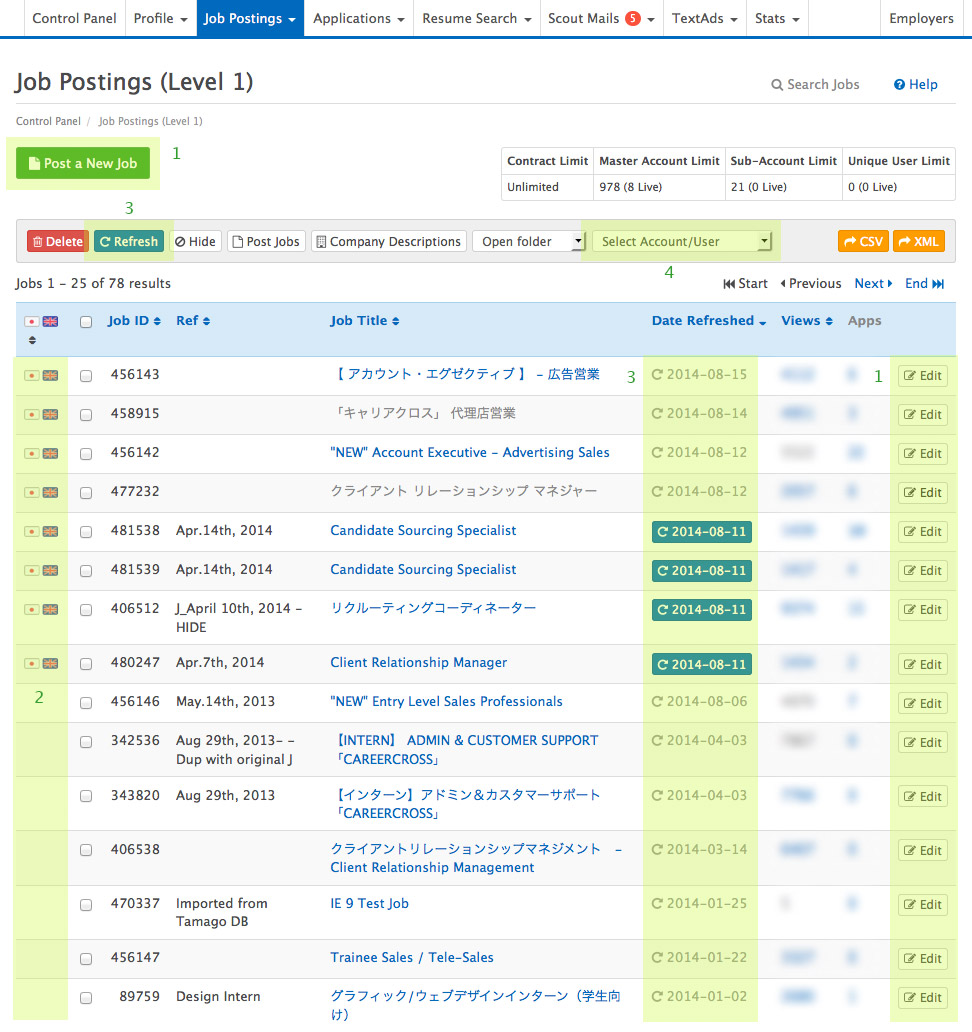 1.Post / Edit Jobs
To post a new job, click "Post a New Job" and enter the job details on the form. To edit a job, click the "Edit" link on the right side of the table *. There are a lot of fields in the job form and while some are not required, your job has a better chance of being seen by more candidates if you fill in as much detail as possible.
* Note: Level 3 jobs can only be edited once per month.
2.Meaning of English / Japanese Icons
Jobs can be posted on the English, Japanese or both websites. The following icons represent each jobs visibility:
Job will be displayed on the Japanese site
Job will be displayed on the English site
Job will be displayed on both sites.
Note: no icon means the job is currently hidden.
3.Refresh Jobs
Refreshing a job saves the current date as the date the job was posted. New jobs appear at the top of job listings, so refreshing your jobs regularly helps to increase your exposure.
Job postings can be refreshed every 7, 14 or 30 days depending on the job level of your contract. You can refresh jobs individually by clicking on the dark-blue "Refresh" icon in the "Date Refreshed" column. To refresh multiple jobs, click the check boxes of the jobs you want to refresh, and then click the "Refresh" button at the top of the table.
4.Viewing Sub-Account/Unique User jobs

To view jobs for each Sub-Account, please select the "All (account name) Users" option from the "Select User" drop down menu. If an account has Unique Users, you can choose that user's name to view their jobs.