About CareerCross Forum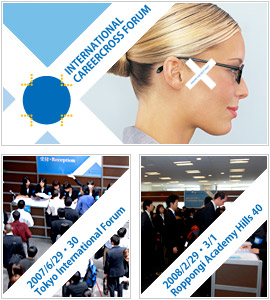 CareerCross, dominating the online bilingual recruitment market, has been diversifying and introducing new ways to access talented professionals such as the CareerCross Forum: a complete career fair offering new ways to introduce bilingual professionals to International and Japanese organization.
More than just a "Job forum", it is a "Career" Forum – the only place where bilingual professionals, mid-career candidates can get a big picture view of all their Career development options and access a wide range of career opportunities. Following the steps of our successful online recruitment business, CareerCross is now committed to introducing a top quality open environment and innovative way to support you to reach your recruitment needs.
More than just a Job Forum
CareerCross Forum is expected to become gradually the best tool available to connect with professional candidates for top human resource personnel from big multinational corporations down to smaller independent companies, recruiting companies, and representatives from some of the worlds leading educational institutions.

View CareerCross Forum site
forum.careercross.com