Bilingual Jobs in Kanto
Resumes
You are able to add, edit and delete your resume at anytime. You may save up to 3 unique resumes to use when applying for jobs on the CareerCross website. Only 1 resume can be set to "Public" or "Anonymous" and displayed in the CareerCross resume bank at any one time.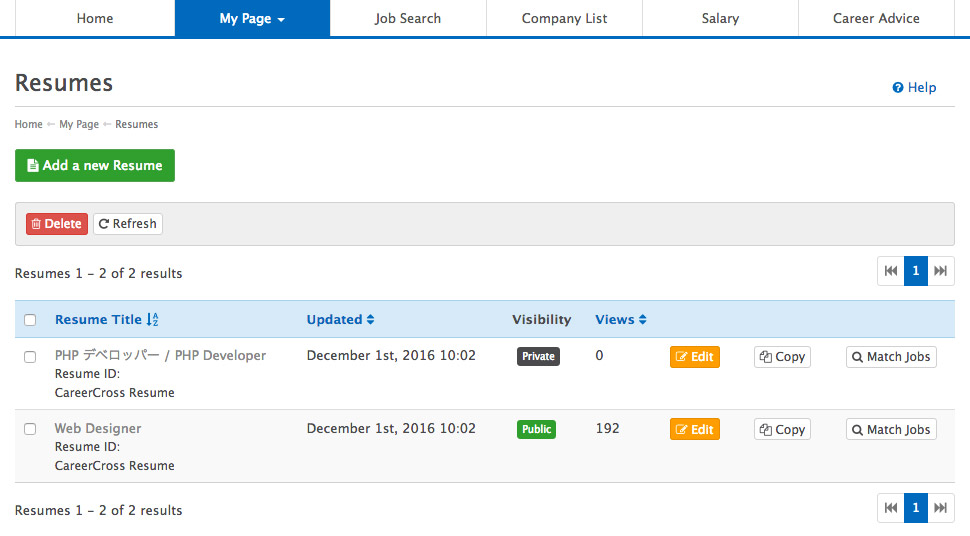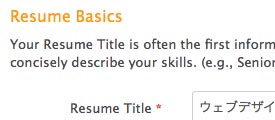 1.Create a New Resume
Job seekers can create 2 types of resumes, either a "CareerCross Resume" or a "Copy and Paste Resume".
To create a new resume click either the "Add a New CareerCross Resume" or "Add a New Copy & Paste Resume" on the "Resumes" page.
1) CareerCross Resume
The CareerCross resume is a detailed resume that is broken down into "Personal Details", "Employment History", "Education", "Desired Career" and "Privacy Settings". Completing a "CareerCross Resume" ensures you don't forget to add any important details, such as your professional experience or education, that could help you get that interview for your dream job.
Advantage: Your resume is clearly formatted and logically ordered in a structure that is easy for employers and recruiters to read. A "CareerCross Resume" is more frequently read by companies who search the CareerCross resume database for qualified job seekers.
2) Copy & Paste Resume
The Copy and Paste resume is a free text style resume that allows you to copy your resume and paste it into the resume form quickly. To ensure your privacy please remember to remove your contact details from the body of your resume.
Advantage: You can quickly copy and paste your existing resume and emphasize your strengths in your own format to distinguish yourself.
Your "Resume Title", the first field in both the "CareerCross Resume" and the "Copy and Paste Resume", will be displayed at the top of your resume when you apply for jobs or if you choose to list your resume in the CareerCross resume bank. We recommend you use your desired job title or highlight key skills both in Japanese and English to catch the attention of potential employers.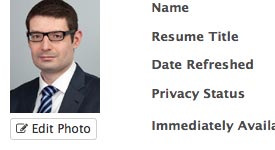 2.Upload Photo
You can upload your photo by clicking on the "No Photo" image on either your "My Page" or when you edit your resume. Uploading a photo is not required but it is common practice in Japan to include a photo with a traditional Japanese resume. To edit your photo, just click on your previous photo and upload a new photo.
If you select "Anonymous" or "Private" in your resume's privacy settings your photo will be hidden.
Photos will be reviewed by C.C. Consulting staff before being displayed on the website. Any unsuitable images will be removed without notice.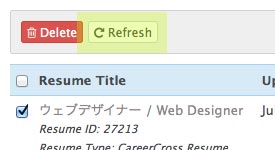 3.Refresh Resume
To update the date on your resume open the "Resumes" page from the "My Page" menu. In the "Resumes" page click the "Refresh" link for the resume you want to refresh.
Advantage: A refreshed resume will be placed at the top of the resume search results when companies search the resume database. It will increase your chance of being scouted by an employer that has suitable job offers.

4.Block Employer
When your CareerCross resume has a status of "Public" or "Anonymous", you can elect to block certain companies, i.e. your current or recent employer, from seeing your details.
To block an employer click the "Edit Privacy Settings" link under the title of your resume in the resume preview page. In the "Block Employer" section of the form enter the name of the company you would like to block and click the "Search Employers" button. Matching companies will be listed. Click the checkbox next to each employer you would like to prevent from seeing your resume then click the "Block" button.
Disclaimer: Your requested company may not appear at the time you search for employers to block, however CareerCross cannot guarantee that the same company will not be added at a later stage. CareerCross suggests that you regularly check your privacy settings and search for companies to ensure they do NOT have access to your resume.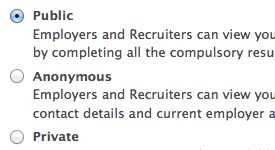 5.Privacy Settings
Employers and recruiters regularly search CareerCross for suitable candidates. We recommend that you make your resume "Public" or "Anonymous" to display your resume in the resume database and maximize your job opportunities. If you wish to hide your resume from potential employers please choose the "Private" option. You can still apply to a job using a "Private" resume, but your resume cannot be searched by potential employers.