Magazine Coverage(2004-2005)
Tokyo American Club iNTOUCH - November 2004
On the inside
by Shikha C. Bhatia
Additional reporting by Nick Jones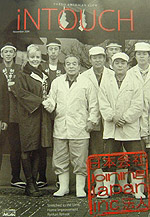 Life in Japanese companies has long been a mystery for many foreigners, who have tried to decipher the driving force behind the armies of graduate clones swallowed up by trading behemoths each spring, stamped with the company seal, and spat out 40 years later with a golden bow.
Whatever the motivation, the system had been humming along nicely. Electronics and car manufacturers muscled their way onto world markets, transforming Japan into an economic powerhouse. The payoff for the crazy hours and no holidays was in brand goods, fancy meals and chunks of prime real estate across the globe. But the party could only last so long. It's been more than a decade since Japan's economic juggernaut ran out of gas. After the heady days of the bubble, the introduction to the world of recession has been a jarring one for many company bigwigs.
A century and a half ago, Commodore Matthew Perry had to force his way into the Japanese marketplace. Nowadays, Japanese companies are realizing that the business model that served them so well needs changing. Just as officials were dispatched abroad during the Meiji Restoration to garner knowledge that would speed up Japan's development, so more Japanese companies are willing to relearn by bringing in outside help. There are now over 100,000 foreign professionals working in Japan.
One of the more recognizable agents of change in Japan is Carlos Ghosn. He was sent to Nissan from Renault (which has a stake in the Japanese automaker) in 1999. That year the company racked up $6 billion in losses. Less than two years, thousands of layoffs and some major restructuring later, Nissan was back in the black.
Many Japanese companies are seeing beyond the "English teacher" role of gaijin staff and are using professional foreigners to help them through the stormy waters of structural reform. They realize that assistance now can prevent job losses and takeovers later. When faced with the inevitable, survival is everything.
Tsugio Ichimura, president of Masuichi-Ichimura Sake Brewery, was well aware of this when he hired American Sarah Cummings. His family had been brewing sake in the small town of Obuse in the mountains of Nagano Prefecture for 250 years. While the company had branched out into other interests such as miso (soybean paste) and tea, the sake side of the business had been losing money for many years, propped up by the profitable sides of the company like the burgeoning chestnut confectionery arm.
Cummings, after helping in preparations for the 1998 Nagano Winter Olympics, joined Masuichi in 1994. The president saw her as a potential source of new ideas and a fresh approach to doing things. Cummings says that this kind of opportunity for a foreigner was rare. "Unfortunately there are many companies in Nagano that are bigger and stronger than the company that I work for but very few are actually willing to give foreigners a chance," she says. "Many are willing to hire them as English teachers or to assist Japanese workers, but very few are willing to give foreigners a chance to work side by side with Japanese coworkers."
The Pennsylvania native was given an opportunity, just not a job description. A demonstration on how to wipe a desk and floor on her first day was as far as orientation went. She would "pick up all the things that fell through," including weeding the brewery garden, allowing her freedom, she says, that was useful for getting things done.
Although Cummings admits that there were employees who wondered what a foreigner could contribute to such a traditional business, it drove her to work even harder. "I didn't think it was important to convince them. For me it was more important that I knew I did the best I could do. So from day one I decided that I would work at least two or three times harder than my coworkers every single day."
Her plans for the company became more ambitious as she looked for ways to modernize the business while retaining its tradition. History and culture, which she saw disappearing all over Japan, became central to most of the projects she started.
As sake breweries across the country were closing in their dozens, Cummings (the first registered non-Japanese sake sommelier) set about reverting to brewing sake in cedar vats rather than modern tanks, a bold move that paid off. She also introduced a restaurant on the premises and is currently working on a guesthouse to be opened next year.
Getting to this point though has not been easy. Cummings says that she didn't have the backing of everybody. "I bonded very well with the craftsmen," she says, "the people who tend to be a little stubborn but also interested in doing a good job. The people who I tended not to get along very well with were the sort of salaryman types who only wanted to put in their time and nothing more."
The notion of change can be frustrating for foreigners entering the Japanese work environment. Established systems are not going to be overhauled within a week. Harmony, or wa, and obtaining a consensus are important elements not just in Japanese companies but in society, too.
Sanjeev Sinha, a manager with Mizuho Securities, says a great deal of his day is taken up with reinforcing the idea of the team. "We have, on average, four meetings a day," the 30 year old says. "Apart from those we indulge in a lot of informal chats or uchiawase. These spill over to frequent drinking sessions, or nomikai, where my Japanese colleagues in a relaxed environment of sipping sake, eating sushi and singing, express their views on various ongoing projects."
The obscenely tough work schedule is usually the first thing cited by foreigners when categorizing Japanese corporate life. The fact that there is a word in Japanese for death from working too much (karoushi) doesn't bode well for any newbie. Nevertheless, the number of hours clocked by employees has been steadily decreasing over the last 15 years. The average number of hours worked by Japanese is now at about the same level as the United States, just above Britain (whose workers do the most hours and take the least number of holidays in Europe). Overtime, however, is on the up in Japan.
Despite the introduction of legislation to control unregistered overtime, the pressures of the economic downturn are having a disturbing effect on workers, with a record 438 people having applied for mental illness compensation caused by overwork last year. The same year saw payouts to 40 families of victims of workrelated suicide.
While work and play are clearly defined?and usually separated? in Western countries, in Japan the line is more blurred. The demands on workers to attend "team-building" company parties and trips would be difficult to enforce in foreign firms. Sinha, who has worked in both foreign and Japanese companies during his eight years in Tokyo, says attending the parties is easier for him than it would be for somebody with a family. "I leave the office by seven but I am almost never back home before midnight," he says. "The drinking sessions are important and as a bachelor I don't mind coming back late."
Sinha says that the focus on agreement has obvious advantages. "In India the big boss decides on a project even if many disagree in the team. Hence, when it comes to doing one's bit, subordinates do it halfheartedly and the results suffer. In Japan decisions are not taken by one [person], hence the pace is slower, but it moves definitively and steadily."
The speed at which decisions are made is a common complaint by foreigners learning the ropes. Business parties might have a series of "green tea" meetings over many months before a proposal is even considered. Just as relationships between employees are important, so bonds of trust with clients are held in equally high regard.
Richard Bysouth, who runs an online recruiting company for bilingual job seekers, says foreigners and overseas companies sometimes fail in Japan because they're unable to appreciate the difference in work culture. "Being different does not mean it's wrong," he says. "Here if a deal has to go through, one has to approach all section heads individually. Only then can the company top brass sign and seal the deal. Often Westerners find it frustrating. It might take long, but once agreed, everyone is on board and things move fast."
David Taylor agrees that the process usually means "greater efficiency and lasting results." The 57-year-old New Zealander is on assignment with Japanese advertising giant Daiko from his American employer. "In China I worked with a very young crew who were eager to get on with things," he says, "hence decisions were made quickly but the results were not matched to perfection. In Japan quality and thinking is better."
Cummings says she often circumnavigated the consensus process simply because she didn't have the time to make sure everyone was behind her. As the feisty foreigner continued to question why things couldn't be done a different way, the skeptics grew tired of explaining the same reasons over and over and relented. "I think conflict and an exchange of ideas can create conflict," she says, "but they can also be a very creative energy." The 36 year old explains that the history of a company like Masuichi can become an impediment to change. "I wasn't bogged down by the past and I didn't have a preconceived notion of how things should be done."
While Cummings has continued to nurture the company's strong links with the community, she has also pushed her own sense of tradition in the town as well, promoting the renovation of historical buildings and organizing a monthly forum for the townspeople. But it was her successful organization of an international conference on former Obuse resident and ukiyo-e artist Katsushika Hokusai in 1998 that cemented support for her at the company. "If I hadn't initiated the Hokusai conference and it hadn't moved forward the way that it did, probably nobody in the company would have listened to me," she says. Cummings' approach has produced startling results but she is quick to point out that it was with the help of many talented craftsmen from outside the company and the willingness of the hundred employees to adapt that made it possible. Although she concedes that if those drastic changes hadn't taken place, Masuichi probably wouldn't be around today. Her rise through the company (she was promoted to managing director in 1998 and voted Nikkei Woman of the Year four years later), however, is not usual within a corporate world where loyalty is crucial. As Professor Akihiro Okumura of Keio University says: "The seniority system where one's wages and promotions are based on the length of service at a company means an employee can be employed at the same firm from the beginning till the end of his career life."
Although cracks are beginning to appear in this system, it remains unfathomable to foreigners like Sunil Vishwanathan. During his time at a Japanese trading house, he grew increasingly exasperated. "My Japanese boss would not promote me over another employee who was with the company for a longer time but hardly qualified enough to be my superior," he recalls. "At the end of a year I was frustrated with the whole concept of respecting age not qualifications."
Despite many foreigners entering Japanese companies armed with language and cultural skills, Okumura is pessimistic about how much of an impact they can have. "Japanese companies are significantly closed," he says. "They are not open to foreigners and that's why a majority of them [foreigners] can find it hard to get by. An insider has a lot of freedom but an outsider will never be able to get things done as he or she will not know the right person for getting the right information." The evidence appears to be to the contrary. Aside from obvious figures like Ghosn and Cummings, American Todd Budge is proving a success at the helm of Tokyo Star Bank, while Shinsei Bank is another foreign-rescued phoenix that has risen from the ashes of the banking sector.
Whatever the feelings about foreigners taking up more positions in Japanese companies (either through mergers, takeovers or invitation), the trend is sure to continue. With a rapidly shrinking population, there seems only one realistic option open to the government. A recent UN report noted that to maintain the size of its working population, Japan would need 17 million new immigrants by 2050. That would represent 18 percent of the population, compared to today's one percent. And that could require a greater openness to change than when foreigners first set foot on Japanese shores.
Fuji Sankei Business i. - 8, April 2004 (Japanese only)
新卒求人広告を半額
シー・シー・コンサル 和・英文求人サイトで
英語と日本語で求人情報を提供するサイト「キャリアクロス」を運営しているシー・シー・コンサルティング(東京都渋谷区)は八日から、新卒や社会人を経験した第二新卒を募集する企業の求人広告の料金を、これまでの半額に引き下げる。四十一万四千七百四十円で 二カ月掲載だったものを、二十万七千三百五十七円で二カ月掲載に改める。
留学生として海外の学校を卒業し、キャリアアップに意欲的な若者層の利用が多いサイトの特徴をアピールし、企業からの求人広告を増やして利用者サービスの向上を目指す。
同社は2000年12月から同サイトを運営。ユーザーが仕事を検索して希望の条件を見つけ、直接応募するシステムと、ユーザーの履歴書を公開して企業などに見てもらい、スカウトを受けるシステムがある。外資系企業などへの応募に役立つ英文履歴書の書き方指導、面接のポイント指導などのコンテンツも掲載している。月間アクセス数は十二万人。
Gainer magazine March 2004 (Japanese only)
光文社発行
日本人ビジネスマンだからこそ
進んで意識改革をしなければ
「なりたい自分」は見えてこない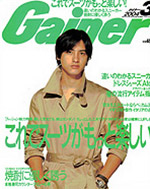 「能力自体を比べれば、日本と欧米の若手ビジネスマンの間にさして大きな違いや差はありません」
グローバルビジネスの最前線で活躍できる人材と企業とをつなぐリクルーティング・ソリューション企業のキャリアクロス。その経営者であるバイサウスさんは、こう語る。
「ただし、欧米には昔からブレークイヤーと呼ばれる習慣が認知されています。要するに、就職や転職をする前に例えば1年とか、長期にわたって外国生活を経験するなどして、自分の将来を見つめ直す時間。それが日本にはないんです。だからキャリア形成を自力で考える習慣や発想が定着しにくいのでしょう」
バイサウスさんは、日本の学生やビジネスマンがあまりにも日々の現実に追われすぎているがゆえに、しっかり将来のことを考えられないでいるという。また、欧米企業は専門性の育成を重視するが、日本企業は今でもジョブローテーションで一人の社員にいろいろな部署を経験させるゼネラリスト志向が残っている、とも指摘。
「何か一つの仕事や能力に自信や自分流の捉え方が持てる前に、また違う仕事をやらさせる。そうしていると、常に仕事は『やりたい仕事がみつからない』状態になる人も少なくないのです」
キャリアクロスを通じて転職を実現する人たちは皆、英語力を持っている。しかし、語学力を云々する以前の問題として、受け身で仕事をやらされるのではなく、自ら仕事を生み出していける力の有無がグローバルビジネスでは問われるのだという。欧米にいるよりも自主独立性を培う環境が少ない日本だからこそ、それを意識して高めていかなければ「なりたい自分」は、いつまでたっても見つからないのだ。