Bilingual Jobs in Kansai
By Oscar Johnson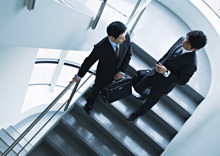 Getting a better salary may be easier - and more essential - than you think. Some new hires should note that their starting salary may be the last chance to negotiate before being locked into a pay structure. Others may find that their next pay raise is a simple negotiation away.
Whether negotiating a starting salary or vying for a raise, all the experts agree on one thing: Do your homework. Arm yourself with the facts about the market value of the position at hand. Study salary surveys - and make sure they are relevant to the company's size and location. What are the salaries for similar positions at the same company? Glean information from coworkers, friends and associates in the same, or a similar, field. This, however, is only part of what you need to know to negotiate.
You also need to know your individual worth as an employee. What is the market demand for someone with your particular skill set and experience? It's important to confidently impress upon the employer and potential employer alike that you know the value of the job. But it's equally important to show how you stand out from the crowd.
When seeking a pay raise, be prepared to back up your request with performance reviews and other examples of how you have met or exceeded goals and helped your department or company do the same. If you or the projects you've managed have made notable revenue for the company, know how much and cite documented figures to support your claims.
Similarly, when bartering for a starting salary, offer such past examples as evidence of the value of your ability to apply your unique skill set and experience. Highlight other unique assets you will bring to the firm such as useful contacts or knowledge of related industries. When you make you move is also crucial to getting the pay you deserve.
As the saying goes, "timing is everything." For those looking to increase their pay, commonsense dictates waiting until you can prove the fruits of increased duties, responsibilities or productivity before approaching your boss. Likewise, better results may be achieved by asking for a pay raise at the end of a fiscal or calendar year, before the next budget sign-off or around the anniversary of your hire date.
Approach your supervisor, never human resources, to set up a meeting to discuss salary. Support your request with documentation and allow your boss time to talk with HR and other company managers. Remember that no matter how much you deserve a raise - in your mind or your boss's - an ultimatum is likely to be seen as a challenge; the stuff of someone who 'causes trouble.' An undesirable in any firm, but severely frowned upon by most Japanese.
For negotiating a starting salary, the game is a bit more nuanced but timing is equally - if not more - important. Never be the first to broach the topic of salary in an interview. For Jack Chapman, career coach and author of "Negotiating Your Salary," the No. 1 rule is to wait until the potential employer makes a serious offer. This is because you usually don't have enough information to know the worth or potential of the job.
"Postponing without upsetting your interviewer requires tact," Chapman writes regarding the "what are your salary expectations" question. Ideal answers can include, "I'll need to know more about the job" or "I need more time to think about it." But that doesn't mean you shouldn't have a clear idea of what you want. (In the event that you must show your hand first, use the high end of the salary range you learned from your research.) If a serious offer has been made, stalling can also buy time to gather more information for a future negotiation.
Start off the bid with a figure higher than you are willing to accept and don't talk too much. In fact, get the employer to do most of the talking by asking open-ended questions. Stick to the facts: what you learned from your research, your professional self-assessment and the job in question.
Lastly, bear in mind that circumstances such as budget constraints and company policies can tie an employer's hands regarding pay. In such cases, potential new hires and current employees alike might consider negotiating for more vacation time or other perks included in the total salary package. These can be higher bonuses and commissions or even getting the employer to contribute more for a better health-care or retirement plan.