Event
Strategic HR Management 2008 Conference
November 5th, 2008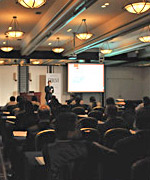 C.C. Consulting organized the Strategic HR Management 2008 Conference on November 5th, 2008 at Meguro Gajoen welcoming over 100 HR directors and related executives to hear from industry professionals on the latest trends and strategies in talent management, diversity management, OD strategies, and legal issues.
In addition to the information available, attendees had the opportunity to speak with our sponsors offering the latest HR solutions as well as network and benchmark with fellow HR professionals during the receptions.
International CareerCross Forum 2008 -For bi-lingual professionals
February 28th to March 1st 2008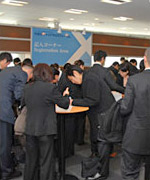 Over two-day International CareerCross Forum 2008, held from February 28th to March 1st, 2,812 career professionals visited Academy Hills 40 in Roppongi Hills Mori Tower to meet face-to-face with 50 hiring companies/educational institutions, attend individual company presentations and listen to career enhancing seminars.
The International CareerCross Forum 2008 is unique as this is the one event targeted for bilinguals that combining three aspects in one forum; career change, education (MBA and continuing education), and seminars (eleven in total) from industry leaders & exhibiting companies.
International CareerCross Forum 2007 -For bi-lingual professionals
June 29th to 30th, 2007.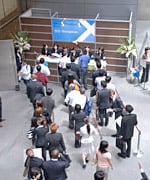 CareerCross Forum is organised by CareerCross and is the premier event for bilingual professionals in Japan.
A large number of experienced bilingual candidates participated to meet face-to-face with leading multinationals, global Japanese companies, and world-renowned educational institutions, as well as to take part in skill-enhancing seminars and workshops.
Our purpose is to provide a service to facilitate your recruting while prividing bilinguals the opportunitiees to meet you for their career change.
"Career Seminar -Three Secret Methods for Success
November 22nd, 2006.
CareerCross hosted a career seminar in conjunction with Newsweek Japan.
Special guest speakers were Mr. Oki Matsumoto, CEO of Monex Inc., and Ms. Sakie Fukushima Tachibana, CEO of Korn Ferry International Japan.
They presented lectures based on the topic "Being Successful in a Foreign Company".
Mr. Takeda, editor in chief of Newsweek, acted as facilitator of a panel discussion, where he and speakers discussed the topic "Breaking away from typical Japanese thinking".

Thank you to all our many participants who came to the seminar.