What's the Right Job for You - How Personality Tests can Guide you to a Perfect Career

Introduction
Ever wondered what is the perfect job for you? Do you seem to struggle in your current career? Are you stuck in a position which just doesn't seem to fit?
You maybe surprised to learn that "who you are" is more important than "what you know" when it comes to performance at work. An innovative new scientific technique based on answering simple questions, will assess your personality, find your strong and weak points and let you pinpoint the perfect career.
This seminar offers a business focused, scientifically verified (by relevant institutions) personality assessment system developed by Garuda and widely used by HR departments worldwide. It is fast becoming a standard tool within the recruitment industry.
Personality Test Details
Before the seminar, applicants who have signed and paid will receive a password within 24 hours after the registration by email granting access to The Focus Profile Aptitude test which was developed in-house by Garuda. The results of the test will be delivered to participants on arrival at the seminar and used as personal reference throughout. If we receive your reservation after the deadline of November 16th and there are spaces remaining, you may attend the seminar but will not receive personality assessment results until after the seminar by email. The Focus Profile gives a graphical representation of behavior type indicators and will enable seminar attendees to participate thoroughly in the seminar and gain some inside knowledge on their personality type helping them to find the right job that matches their ability. If participants wish to receive a more in depth profile and one-to-one consultation with Mats Bruzaeus we will be offering an exciting opportunity to accommodate them at exclusively discounted prices at the end of the seminar. This is a rare and inexpensive chance to experience the full potential of the Garuda personality test without paying exorbitant corporate fees.
So whether you are currently in a job that doesn't seem to fit, venturing out into the workplace for the first time, or just curious as to which career is best suited to your personality, this seminar will give you an insight into where your personality fits as it applies to work performance and satisfaction.
Speaker
Mats Bruzaeus
President & CEO at Garuda Japan K.K., Tokyo
Mats Bruzaeus is an expert in multi-lingual, multi-cultural personality profiling, a professional Human Resource Consultant and personal development coach. In addition to being the President, Representative Director and Chief HR Analyst of Garuda Japan and the former Director of Trade and Industry for the City of Malmö in Sweden, Mats Bruzæus received the Order of the Rising Sun in 1998 for his services to Japan.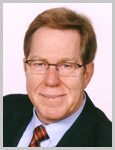 People who should attend
People looking for a more fulfilling career
People unsure of a new career path
University Students
People looking to change industries
People who want to know more about their natural strengths and weaknesses
Outline
Title
What's the Right Job for You
How Personality Tests can Guide you to a Perfect Career
Speaker
Mats Bruzaeus
Date
November 17th, 2011 18:30-21:00 (Registration: 18:15-)
Organizer
CareerCross / C.C. Consulting Co., Ltd.
Language
English
Venue
Kodomo no Shiro 9F ROOM 906 (Shibuya) -
(View Map)
Cost
(Payable by Credit Card)
7,000yen
You will leave the seminar with
Knowing your Personality type and what it actually means at work
Knowing your strong sides and with a set of keywords to describe them
Knowing what kind of job area which you are likely to excel
Feeling more confident in your capabilities and turning weakness into strength
Better understanding how to approach and communicate with different types of people
Schedule
Part 1
What is personality? Can you change it?
Part 2
Overview of personality types
Part 3
Your own personality profile
Part 4
Who is best for a certain type of job - samples of tekizai-tekishou
Part 5
Mismatches and their consequences for you and the company
Part 6
How to adjust to the job - what can you do
Part 7
Group illustration of how different types of people solve the same problem
Part 8
Summary, conclusions and the next step to deeper understanding of your career potential 
* Held in English
Notes:
1.Seminar contents are subject to change.
2.Seminars may be canceled due to unforeseen circumstances. Only participation fees will be refunded upon cancellation of the seminar.
Organizer
C.C. Consulting K.K.
Established in 2000, C.C. Consulting K.K. and its flagship website 'CareerCross' are the established leaders in online recruitment for bilingual professionals in Japan, organizes the leading bilingual mid-career job forum, and holds other HR related conferences and training programs. C.C. Consulting K.K. aims to bring our clients the most up-to-date information on HR issues affecting the industry today.